If you have at all followed some of my last posts, you will know that the downstairs of my house threw up - twice! The first time was the toilet and we had to tear out all the laminate floors and will soon be tearing up the carpet in the playroom to replace since it seems as if the water damage got under the carpet as well. The second time the downstairs had a case of the flu was with the sink. Luckily the laminate was still torn up so no damage to the new floors, but this time the water got under the tiles that are under the washer and dryer, so.... out went the washer and dryer and tiles.
The new laminate is down (although I know we're playing with fire here, thinking we should have gone with
vinyl flooring that looks like hardwood
for possible future floods). The new baseboards are up too, the door that has never closed is fixed, and since we had to remove the washer and dryer we decided that this was a good time to get them on pedestals, so those are in place with the washer and dryer on them. Now it is time to make that space usable. I've been spending some time researching ideas for how to make the laundry area look nice and function well. Here are some ideas I've come across that I like...
I'm always finding random things in my pockets - yes MY pockets, not Nick's - so I thought this idea for a way to collect those things was neat:
I definitely need to find space to hang clothes after they've been ironed or for those clothes that have just come out of the dryer, but need a little extra drying time. I like this idea for putting up hooks to hang the clothes:
I always have the ironing board open, but lets be honest, I don't iron that much! I'm hanging it on the wall from now on:
I need tubs... for clothes that are waiting to be handwashed, for handwashing clothes, for dirty towels, for clothes that have been stained and need soaking, and for Nick's dirty/smelly workout clothes. I thought these were nice and will bring some pretty color to the drab job of laundry:
We need something to cover up the holes in the wall behind the utility sink from when we had to pull the sink out to put down new floors. I'm thinking I like a slatted wall that will hide the holes and be functional: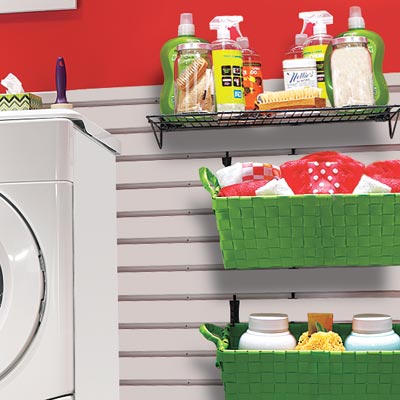 I've already decided I'm buying this shelving unit to hold some of the laundry containers that won't fit on top of the washer and dryer now that they are on pedestals. Also, Nick plays basketball in the evenings after the girls are asleep and he likes to go for runs while they are napping. He needs a place to keep his workout/basketball clothes and towels for cleaning up when he gets home. I thought the drawers would be a perfect place to keep those things:
The last thing I want is a pretty rug to put in front of the washer and dryer. I got caught up messing around with
Polyvore
and created this "lookbook" of potential patterns:
I need to do all of this on a budget so I might have to scale my ideas down a bit, but its always good to start with a plan!!